48 Hour New Year Special: 3 stores with extra CashBack!
30/12/2015
As a gesture of good will as the year draws to a close we are increasing CashBack on three of our top performing and favourite stores. This is for 48 hours only so be sure to bag a bargain (online sales started as early as Christmas Day) with our additional CashBack Rewards. The New Year Special is from 31st December 2015 to 1st January 2016 so don´t miss out!
The 3 amazing offers are as follows: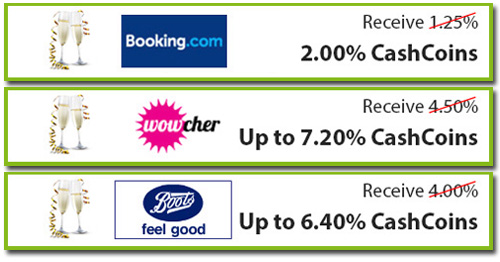 Go somewhere new as a New Year resolution with Booking.com, offering 846,107 properties worldwide to choose from.
Save up to 80% on Deals where you live with Wowcher, there´s something for everyone.
Lastly, save up to ½ price on 1000s of products at Boots.
Remember, on top of all these sales you are still able to get CashBack!
Leave a comment, what are your favourite online stores? Which stores would you like to see with increased CashBack for our next 48 hour special?


By Lidia Pomykala on 16-02-2016 at 19:46:01
Its really working this?
By Dawn Emery on 05-01-2016 at 01:37:46
Fabulous deals all the time
Jack : CashbackEarners.co.uk Team
Thanks for the lovely comment Dawn! Keep an eye out as we´re always adding new stores and vouchers for shopping with CashBack plus increased CashBack exclusives!