A Cuppa with a Difference
01/07/2016
A Cuppa with a Difference.
There is nothing more satisfying that a good brew -whether first thing in the morning to wake you up, with friends accompanied by sandwiches and scones or in the evening with your feet up in front of the telly.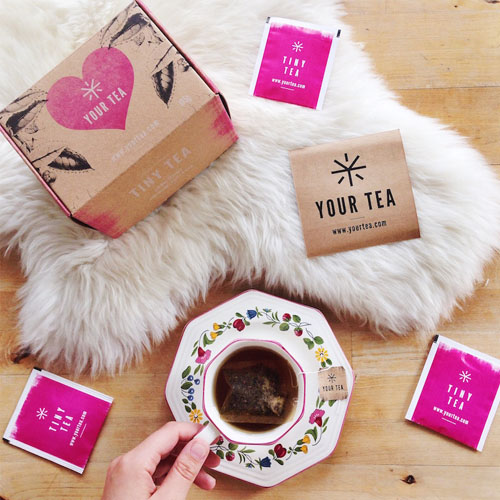 And everyone has their own tea ritual – milk in first or milk in after, keep the teabag in or do a quick dip and out. And let's not forget about the biscuit dunking techniques – we personally prefer a good chocolate covered hobnob for 2 whole seconds.
New store Your Tea are making us take a new approach to tea – with their large variety of detox teas, liver cleansing teas, weight loss and slimming teas – and all made from completely natural products.
They create modern tea blends using ancient Traditional Chinese Medicine principles. By looking after the body from the inside the positive results are physically possible to see with a specialised ´Skin Magic Tea´ which does just what it says on the box. It contains Aloe Vera, Liquorice Root, Lotus Seed Heart, Jasmine, Chinese Red Tea and Bai Xian Pi which have traditionally helped with acne, eczema and uneven skin tone.
Another popular tea is their Happy Tea which combines Chrysanthemum, Barbary Wolfberry fruit, Hawthorn fruit, Lemon and Rose flower and increases your mood, helps alleviate stress and eases anxiety.
As well as an array of good for mind and body teas they do a lot for charity or charitea with the current supported charity being for the Humane Society International who are currently focusing on banning the Yulin Dog Meat Festival in China.
Your Tea also provide recipes and tips for maintaining a healthy and happy lifestyle and we just love them!
So what is your favourite cuppa?
Like, share and comment below!


The best Cashback offers from this moment:

3.00% CashCoins
Your Tea
Here at Your Tea, we do things a little differently to most. We care about your health.
Go to offer
By Amanda Taylor on 17-07-2016 at 07:40:26
Tetley tea .. I like herbal .. peppermint tea at night time to help me sleep
By Ben Adams on 04-07-2016 at 08:43:22
I'm not fond of traditional tea, but I love fruit teas and licquorice tea.
By Lisa Smith on 03-07-2016 at 13:40:47
I hate tea but love COFFEE!!