Emails Earn You CashCoins!
14/07/2016
It´s amazingly simple to earn extra CashCoins with our rewards system for interacting with Cashmails, you can bankroll anywhere from 0.01 by clicking, to a whopping 20.00 Cashcoins per interaction. So, it´s always worth keeping a close eye on your unread mails. But wait! There is much more in it for you than just earning money. Cashbackearners.co.uk Cashmails offer to you, our valued customer, credible competitions, personalised deals and unique discounts from our trusted associates. Log in to your account and take a look at the Cashmail tab on Cashbackearners.co.uk for chances to win anything from £1000 free Tesco and Primark vouchers to free luxury holidays for two. You can also claim free stuff -from free issues of Time Magazine to welcome bonuses for top online casinos. 
You've got to be in it to win it! No claim, no gain! Check your unread mails to find out for yourself.
Look below for a selection of the most frequently asked questions or check out our FAQ page for more information.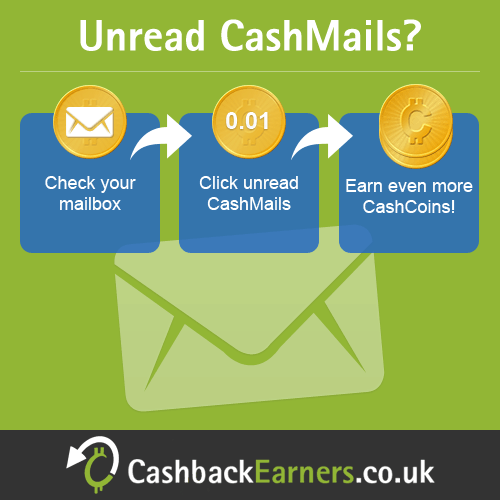 What are CashMails?
CashbackEarners.co.uk members can earn extra money by clicking on promotions and offers in CashMails. If you are logged in, you will receive daily CashMails in your mailbox. Click the promotion or offer in the e-mail and you will receive 0.01 CashCoin in your account at CashbackEarners.co.uk. If you make use of the offer by shopping at the website, you also get CashCoins for your purchase or participation.
How and when do I receive money for CashMails?
Click on the CashMail offer or promotion and receive money in your account! You just have to click on the image or link in the e-mail. You will receive 0.01 CashCoin per CashMail in your account of CashbackEarners.co.uk. This amount is automatically added (within 48 hours) to your account on the day when you click on the image or link in the CashMail (provided that the period of validity of the offer has not expired).
Like, share and comment below!


By Kelly Hilton on 04-08-2016 at 14:32:28
This site is awesome
By Matty howker on 17-07-2016 at 23:01:46
thi s saite is gooooddddd