Remember, remember the fifth of November!
30/10/2015
As the autumn evenings grow crisp and cool and you begin to think it is already winter, November events begin across the United Kingdom with an abundance of beautiful Bonfire Night fireworks on Thursday November 5 2015 to warm things up. Wrap up snug and head to one of the country´s many firework displays to enjoy a show of spectacular colours over some of the UK´s top landmarks, attractions and beyond. Check out Groupon for some last minute deals plus up to 7.50% cashback rewards.
When is Bonfire Night?
If you didn´t know the rhyme already: Remember, remember the fifth of November (the main firework action takes places on Thursday November 5 2015, but events will start early or run into the weekend and beyond). What is Bonfire Night? Bonfire Night a.k.a. Fireworks Night, a.k.a Guy Fawkes Night, traditionally marks the anniversary of the end of the plot to blow up the Houses of Parliament in 1605. Imagine what a firework show that would´ve been!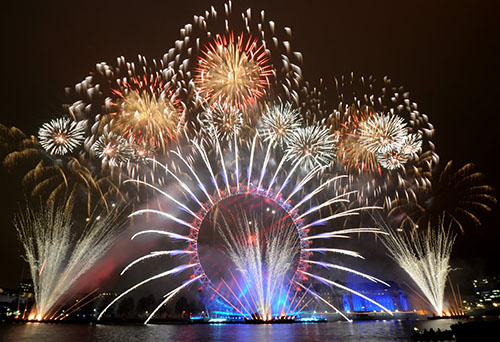 Where is Bonfire Night?
Firework displays take place across the whole of the United Kingdom. Have a look at our two top picks in London from Groupon:
Fireworks Display at Allianz Park with a Burger and Drink for Two, 1 November
The Deal:
£14 for entry to Allianz Park fireworks display with a burger and drink for two
When: Sunday 1 November 2015
Where: Allianz Park, Greenlands Lanes, Hendon, London
Door Time: 6pm, show starts at 7.30pm
Ticket value includes all fees
Bonfire Night With Fireworks and Funfair: Family Ticket for £12 at Mallory Park (20% Off)
The Deal:
Ticket for two adults and up to three children to Fireworks and Bonfire Night
When: Saturday 1 November
Where: Mallory Park
Gates open; 5.30pm; entertainment starts: 6.30pm; bonfire lit: 7.30pm; fireworks display: 8pm
Fireworks Bundles on Groupon
For people that will be celebrating on a smaller scale you can get firework bundles on Groupon. Available in a wide range of designs, these bundles are sure to bring joy along with the colourful fireworks


By Gina Murphy on 11-11-2015 at 13:53:44
Absolute bargain the firework displays were amazing. Was well worth the journey down to London. Thoroughly enjoyed it. Would recommend this for next year if they do it again.