London Fashion Week 2016!
19/09/2016
London Fashion Week 2016!
London Fashion Week closes tomorrow with the main theme this season being colour, and lots of it. From Versace's bright mango tones to Topshops' fuschia shoes there is every hue, tone and colour under the sun to brighten up your wardrobe.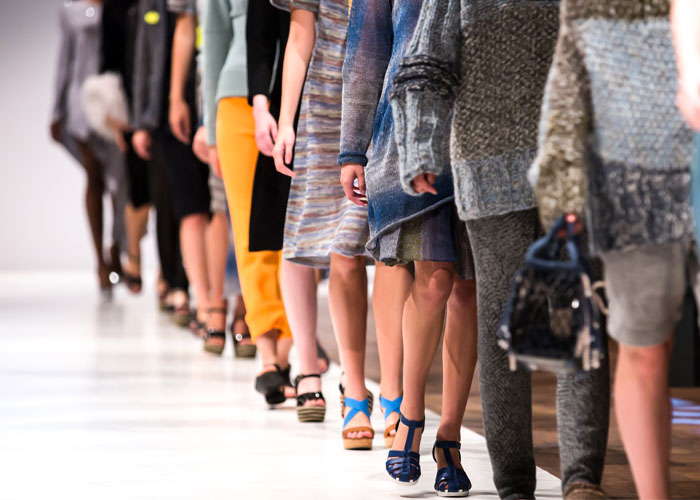 LFW began on the 16th of September and finishes tomorrow, returning again in February. It will have welcomed over 5000 attendees from 58 countries and showcased 83 designers. It is one of the most attended and popular fashion weeks affirming London's status in the fashion world.
And, this season's LFW is definitely not disappointing. Here are some of the highlights and trends that we have loved so far.
The raincoat/mac remains a season must-have – with bright colours and loose styles being the chosen look these raincoats are anything but frumpy rainwear.
Headscarves have also made a come-back with designers such as Peter Jensen incorporating them into most looks. His brightly coloured collection showed up greens, yellows and deep purples – mostly set within a garden themed catwalk. Lots of natural, nature loving colours which will make us yearn for Spring.
Big and bold earrings are coming back – and the bigger the better! J.W. Anderson included many individual larger than life earrings in his collection. This look was further enhanced by the continuing use of the 80s as fashion inspiration. TopShop and Mother of Pearl used the iconic 80s fashion style for their SS17 collections. We saw leather baggy trousers, wide legged jeans, shoulder pads, blazers and, of course, over the over-sized earrings.
Other must-haves are the stacked platform, the baggy jean and blazers. Mix and match the three things with a pair of large over sized earrings to feel like a fashionista this season!
To help you with your fashion ways check out ASOS, Stefania Mode, Converse and Stradivarius.  For the weekend only get double cashback with these stores!
Happy shopping!
Let us know your favourite looks this season.
Like, share and comment below!


The best Cashback offers from this moment:

6.00% CashCoins
Stefania Mode
www.stefaniamode.com is a new high fashion retail online.
Go to offer
By Ana Panuncio on 23-09-2016 at 20:03:20
Casual a modern clothes!