Cashback and discounts at Just Eat
This shop offers cashback, plus extra discount
1 offers
Tuck into a takeaway today and get cashback with Just Eat
Just Eat is the marketplace for online food delivery. They provide customers with an easy and secure way to order and pay for food from their restaurant partners. Just Eat has more than 100 cuisine types and 240K+ restaurant partners. Discover the wide range of Just Eat and order food right to your home.
Discounts and Discount Codes for Just Eat
Up to 2.00% CashCoins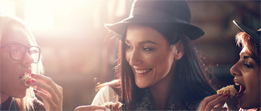 Fancy a takeaway? Enjoy Just Eat tonight
Valid until: 31-12-2021
Go to offer
Blog Just Eat
Valentine's Day is coming! Sure it's a bit difficult with all the restrictions going on currently, but that doesn't mean you...
Just Eat

Reviews
Somenath Saha | 09/10/21 00:09:30 | Store rating :

Best deal I have ever got only from Just Eat whenever fulfilling my cravings. Awesome deals always receive and they deliver food to your doorstep very quickly. Customer service friendly. Food quality is very good.
MondoOnnit | 03/10/21 02:44:05 | Store rating :

Not a lover of this app, just not for me, the menu choices are not the same as the takeaway outlet's, less choice & limited particularly if ordering a meal deal, so you have to add a note to get what you want
Miss Pennant | 04/10/21 15:01:54 | Store rating :

Just eat need to make drivers responsible for food damage, food loss and cold food. Alot of the restaurants associated with just eat are cheap, expensive and affordable. But it doesn't help when food is missing or food comes cold.