Cashback and discounts at Marks and Spencer
This shop offers cashback, plus extra discount
1 offers
Marks and Spencers, great value offers and discount for clothing and home products
M&S are one of the UK's leading retailers for selling stylish, high quality, great value clothing and home products. Offering you the biggest range online for: Womenswear, Lingerie, Menswear, Kidswear, Homeware & Furniture, Wine, Flowers and Gifts. Be sure not to miss out on this opportunity for great discounts and offers at the UK´s favourite online retailer.
Discounts and Discount Codes for Marks and Spencer
1.00% CashCoins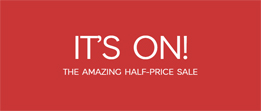 Shop the amazing half priced sale from Marks and Spencer
This offer has expired
Go to offer
Blog Marks and Spencer
Do you have enough balance to request a payout? Then we have good news for you! Now you can request gift cards from ASOS, M&S,...

Ladies and gentlemen, after weeks of rain and windy mornings, SUMMER IS HERE. We weren't just eased into it, no! We have been...

It's here again, back with us almost as fast as it left, the elusive late summer bank holiday! Traditionally seen as one final...
Marks and Spencer

Reviews
Katie Slaughter | 18/04/21 15:08:30 | Store rating :

I've bought shoes and clothing from them in the past, although in my personal opinion it has more clothing for the older generation, there's a few items that are excellent quality and priced low
Sally MacLennane | 07/09/20 12:32:37 | Store rating :

Awesome prices for awesome quality!! Definitely reccomend, they sell nearly anything a person could ever possibly want; Clothing for all, tshirts, jeans, shoes, wedding dresses, hoodies. They also sell food products ( their own brands unlike tesco, asda) meatballs, salmon and SALAD.!
Katie Sullens | 20/02/20 14:10:30 | Store rating :

Absolutely amazing shop I will be buying alot of baby products from here closer to june when my baby arrives. I also think ug is great value for money. Also there stores are laid out very neat and tidy staff are polite too