Cashback and discounts at Virgin Media
This shop offers cashback, plus extra discount
1 offers
Digital TV and Internet with Discount at Virgin Media
Virgin Media's award winning fibre optic broadband is the fastest available in the UK with speeds of up to 152Mb available. Powered by the Virgin Media Super Hub, it's jam-packed with the latest wireless technology so that customers get a really fast, uninterrupted and secure wireless connection at lightening speeds.
Discounts and Discount Codes for Virgin Media
15.00 CashCoins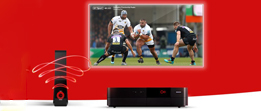 Full House TV bundle: 240+ channels, including BT Sport and top Sky channels, fibre broadband with average speed 108Mbps and phone - £45 per month (usually £57)
This offer has expired
Go to offer
Blog Virgin Media
Happy Autumn from us to you! We want to make the transition from Summer sun to Autumn as smooth as possible. So, we are...
Virgin Media

Reviews
Natalee Langley | 06/02/21 06:34:36 | Store rating :

I cannot rate virgin media enough, I had my virgin WiFi, telephone line and TV box bundle around a year ago, the engineers that come to install it all were super friendly. iv never had any problems in all the time iv had it installed, check out their new customer deals .
Carlo martino | 01/01/21 14:46:09 | Store rating :

Very hit and miss in their reliability. The customer service centre is reliable in the speed they take the calls. Mind when it comes to putting promises into action that is another story all together....
Yasemin Aspinwall | 08/10/20 16:41:41 | Store rating :

we've been with virgin media for around 7 years and always been happy with the service, our only issue at the moment is not being able to build a package the last time we phoned to try and reduce some of our costs, which we found quite disappointing considering we've been a loyal customer for a while and it was possible before they changed all the packages.