A Beer with a Difference
06/07/2016
A beer with a difference
Every year thousands of wildlife and sea life animals are caught up and entangled in plastic six-pack rings which we throw away instead of recycling.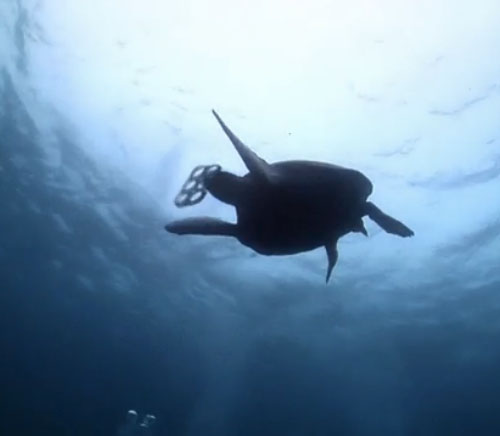 Either people leave them on the beach after enjoying a summer´s beer with friends or they are discarded without care and end up polluting our environment causing harm to animals and sea creatures looking for food.
A company in Florida has decided to overcome this problem so that we can live at one with our environment and our oceans. Saltwater Brewery has invented the first ever fully edible beer packaging.
By recycling by products of the brewing process (they also brew beer) they have created a fully biodegradable and completely digestible beer can ring holder. As well as preventing the entrapment of wildlife the rings also provide nutrition to the creatures they meet.
Furthermore the packaging is just as strong as its plastic counterpart and the guys at Saltwater Brewery are hoping that other drink manufacturers will follow their example and protect the environment by switching to these new edible ring holders.
If more manufacturers do this the cost of production will drop meaning that there will be no commercial excuse for not choosing to use these new bio degradable substitutes.
We think that this is a great idea – we need to start looking after the planet and begin attempting to align our consumer culture outputs with the needs of our environment.
So well done to Saltwater Brewery – we hope that many other drinks companies will think like they do.
Another great company here in the UK who only uses 100% biodegradable & 100% recyclable packaging is Graze.com . Order yummy snacks from them today for a healthier and happier body whilst also making a difference to the planet in which we live!
Like, share and comment below!


The best Cashback offers from this moment:

2.50% CashCoins
Graze Shop
The online graze shop is the NEW home of exciting snacking.
Go to offer
By Sammy Whitfield on 21-07-2016 at 01:22:52
About time
: CashbackEarners.co.uk Team
Beste Gerda, Bedankt voor je bericht. Deze websites blijven inderdaad apart. GekkenGoud blijft gewoon een op zichzelf staande website. Groet, GekkenGoud
By Sammy Whitfield on 21-07-2016 at 01:22:52
About time
Helen : CashbackEarners.co.uk Team
Bonjour Joséphine, Nous vous souhaitons la bienvenue sur CashbackReduction ! En effet vous avez la possibilité de retenter votre chance durant l'année 2016. La compétition prendra fin le 31 Décembre 2016 ! Alors à vous de jouer Joséphine pour tenter de remporter 250 CashCoins ! Et au passage, meilleurs vœux pour cette année 2016 ! Lora de l'équipe CashbackReduction
By Emma Bain on 12-07-2016 at 15:52:07
fantastic idea wish I thought of it myself :)
By David Whitehead on 08-07-2016 at 06:31:06
EXCELLENT NEWS ABOUT TIME THAT SAFETY BECAME PARAMOUNT TO OUR MAGNIFICENT SEA LIFE ANIMALS. WE WOULD SOON FIND SOLUTIONS IF IT WAS THE OTHER WAY ROUND AND IT WAS THE SEA CREATURES THAT WAS ENDANGERING OUR WORLD.
By alan atkinson on 06-07-2016 at 16:39:34
i think it is a great idea and many companies will follow,