Savings for Star Bakers!
23/08/2019
It's that time of year again folks - The Great British Bake Off returns to our screens next week which means people up and down the country will be getting into the baking spirit. And we fully endorse that...the more cakes in the office the better! Whether you're already a fully fledged star baker, or your baking skills are more in the realm of Hell's Kitchen - we have what you need to give baking a go. If you're planning on indulging in this as a new found solo hobby, or have little ones to entertain indoors now Autumn is almost here, it's time to take the plunge; whilst making some fantastic savings. Aprons at the ready!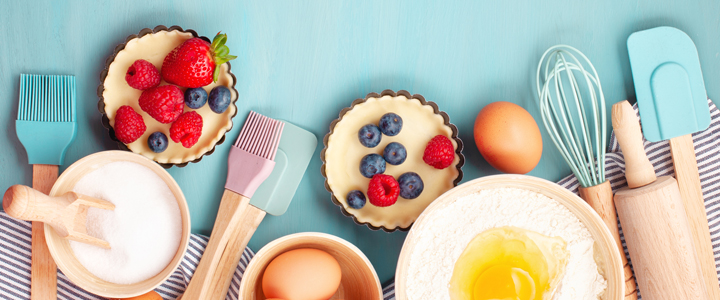 First up we've got Wilko, an amazing place to start your baking journey. With a whole Baking & Decorating section online be sure to head there for all the essentials you'll need. From cake tins to mixing bowls you can get your whole kitchen kit for less without compromising on quality! With stackable bakeware you needn't fear about taking up precious cabinet space, and from bright bowls to colourful sprinkles it'll be easy to get the kids involved (or just make some super cute cakes!) Shop now and you'll also get a nice 2.00% CashCoins.
Right, so maybe you've already got the basics covered, which means it's time to upgrade your equipment to the next level. We're talking full on baking appliances, think processors and mixers which can help take your baking to the next level. Dunelm have a fantastic range of these so, as they say, you can 'bake it til you make it'. Save yourself time, hassle and bake like a pro whilst making it look entirely effortless! Not to mention you can earn 1.00% CashCoins when you do so.
Salter has been the UK's leading weighing scales brand for over 250 years, so you can trust them when it comes to helping you with your baking. The key part to any bake is the precision weighing of the ingredients so scales are the number 1 tool you need to get started on your journey to becoming a master baker at home. They currently have up to £20 off their Best of Baking range too so you can get everything you need to make your showstoppers. Shop with Salter and you'll earn 3.50% CashCoins in the process.
We hope you've enjoyed our top Bake Off inspired suggestions for you this week, so get cooking and earn those CashCoins! Your tummies can thank us later. 


The best Cashback offers from this moment:

1.00% CashCoins
Dunelm
Committed to offering customers brilliant quality homeware at the best possible prices, you'll find curtains, bedding, rugs and lighting to pots and pans, dinnerware, seating and more at over 170 stores nationwide, and thousands more products (including some very special online exclusives) at Dunelm.com.
Go to offer

1.00% CashCoins
Wilko
Wilko has been offering quality brand and own brand products through their stores for more than 75 years.
Go to offer
By Margaret-clare Mccormack on 16-03-2020 at 03:13:01
I'm now ready to start my first baking experience with more confidence than I had before the article wa informative and was just the deal before your first attempt good job I su good job
By Jenny Connell on 01-01-2020 at 21:56:31
Tonight's Festive Bake Off was brilliant. Inspiration
By Shakisa Salami on 04-12-2019 at 01:34:41
I love baking x
By COLLENE Draper on 16-09-2019 at 03:49:50
the BEST EVER BRITISH cooking.x
By Stacey Stewart on 06-09-2019 at 02:44:53
Nothing better than a bit of traditional baking
By Steven Kearns on 25-08-2019 at 19:46:18
nowt better than good traditional British baking